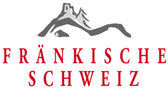 Vacations in one of the most exciting regions of Germany
our idyllic "little alps" at both sides of the valley of Wiesent
with castles and villages, surrounded by bizarre rocks
in the midst of a romantic culture and nature landscape

in the heart of Franconian Switzerland
Hiking centre, Nordic active centre, Natural park info centre
At Wiesenttal↑ you are aside the hustle and bustle, but in the midstream ...
... of quality hiking routes like "Frankenweg↑" and "Fränkischer Gebirgsweg↑" which are crossing our local area, beside a multitude of well marked hiking paths (loop roads) ... strolling at the river promenade or ambitious hiking onto the tops - everybody gets his "hiking moneys´worth" >> www.fsv-muggendorf.de
On the bicycle too (see also E-Bike-Region↑ Fränkische Schweiz) or in a canoe or a kayak on the river Wiesent (the main river of the Franconian Switzerland) you will enjoy extraordinary perspectives.
More pictures of Wiesenttal and roundabout you can find in our > gallery.
Frankonias historical towns: Nürnberg, Bamberg, Bayreuth...->
> Die Umgebung (surroundings) shows you some possibilities for a short trip by car, bus or train.

Worth knowing and general informations about the community, local gastronomy, culinary and cultural specialities...
we collected for you under > Links ~ Infos .

On our website we only can give you a little insight of our multiple touristic possibilities - you have special wishes/interests - you need more explanations of the German webtext? Don´t hesitate to pose your questions > Contact > Booking/Prices .
Some impressions of your possible stay in our "musician flat" (with piano)
Go back to this main page in english via "home".
So long at Wiesenttal ~ we are happy to see you